Our Services
Dr. Jill Chen and the entire team at Modern Eyes Optometry are dedicated to providing neighborly, personalized eye exams, contact lens fittings, medical eyecare, high-quality prescription glasses and more for your entire family. Our services are available in three languages: English, Spanish, Mandarin.
Locally & Independently Owned
Modern Eyes Optometry is an independent private practice. This affords us the freedom to provide exceptional eyecare by doing what is most beneficial to our patients. We are not bound by any franchise agreements that dictate how we care for our patients nor are we pressured to meet corporate sales profits. At Modern Eyes Optometry, you are much more than just a filled appointment slot - you are treated like family.
---
"Peace of Mind You Can See"
We promise to put your mind at ease during your time with us. From the moment you come into our office, we will provide you with a clean, comfortable environment and neighborly, professional service. Our friendly, well-trained staff will work with you to solve all of your eyecare needs. By combining our optometrists' advanced training with the latest technologies in eyecare, Modern Eyes Optometry provides you peace of mind that you are receiving the best eyecare available.
No gimmicks or sales pressure, just Peace of Mind You Can See.
---
Our eye clinic in Cerritos, CA is conveniently located in the Cerritos Plaza – the same shopping plaza as Ralph's and Wells Fargo, across from The UPS Store and near the Bowlero Cerritos bowling alley. We are just south of the 91 freeway near the intersection of Carmenita Road and South Street. We also serve Artesia, La Palma, Buena Park, Norwalk, Cypress, Downey and the surrounding cities of Southern California.
Technology Edge
True to our name - Modern Eyes Optometry utilizes some of the latest technologies to provide you with the most advanced eyecare with your comfort in mind.
See beneath the surface
The health of your eyes matters to you and it matters to us too, which is why we are offering both retinal photography and OCT to all our patients. OCT is a new, completely painless and highly advanced screening system that checks for potentially serious conditions such as glaucoma, diabetes, age-related macular degeneration, vitreous detachments and more.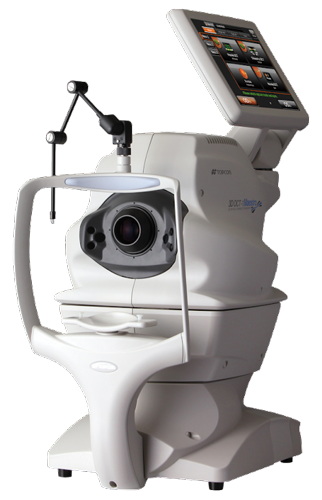 No air puff test
Do you enjoy the dreaded air-puff test? No? We don't either, so we got rid of it. Yep, it's gone. Modern Eyes Optometry is a NO PUFF zone and utilizes modern, accurate methods to measure your eye pressure.
Testimonials
We are honored and take great pride in providing extraordinary care to our community. Patient satisfaction is our #1 priority. Thank you for allowing us to provide you the peace of mind that you are receiving the most advanced eyecare available.
Follow Us
We love to connect on social media.
Ready for Peace of Mind You Can See?
Come see your local Cerritos optometrist at Modern Eyes Optometry today and experience peace of mind with all of your eyecare needs.
---